Back to Recipes
Mozzarella Fresca alla Torre di Pisa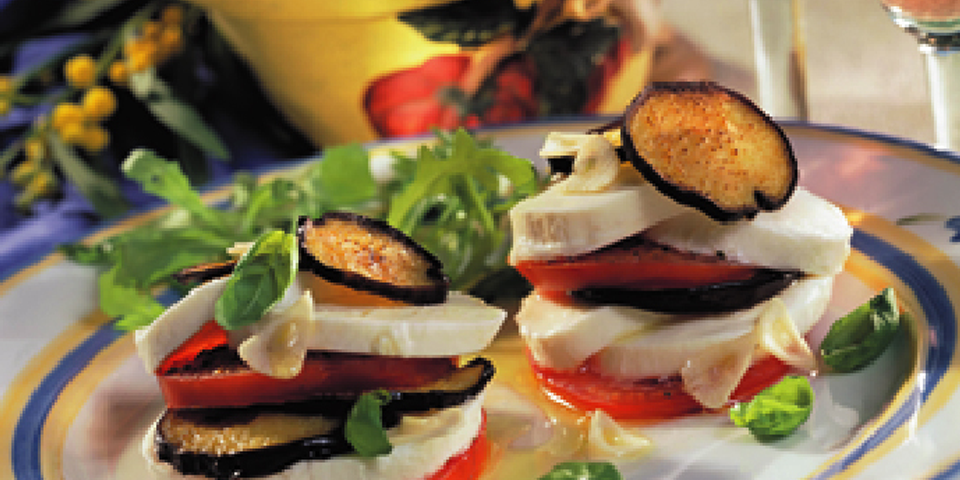 Ingredients
2 Galbani® Mozzarella Fresca 226g Balls
4 Vine Tomatoes
1 Small Aubergine
6 tbs Olive Oil (Extra Virgin)
2 cloves Garlic
1 handful Fresh Basil
Oregano, chopped
Salt and Pepper
Preparation Instructions
Wash and slice the tomatoes and put them into a bowl. Season with salt and pepper and sprinkle with oregano.

Drizzle two spoons of olive oil over the tomatoes and leave them to marinade for about 30 minutes.

In the meantime, wash the aubergine, remove the ends and slice; sprinkle with coarse salt and leave to drain for about 20 minutes.

Dry the aubergine slices with kitchen paper and sprinkle with pepper. Slice the Galbani® Mozzarella Fresca, then peel and finely slice the garlic.

Heat two spoons of oil in a pan, add the garlic and soften briefly, then remove and set on one side.

In the same oil, fry the aubergine slices on both sides, remove and dry with kitchen paper.

Create two «Leaning Towers of Pisa» on each individual plate by alternating slices of tomato, mozzarella and aubergine on top of each other.

In a bowl, mix the remaining oil with with salt and pepper and drizzle over the composition.

As a finishing touch, garnish with basil leaves and the tiny slices of golden garlic.