Back to Recipes
Mozzarella Fresca Margherita Pizza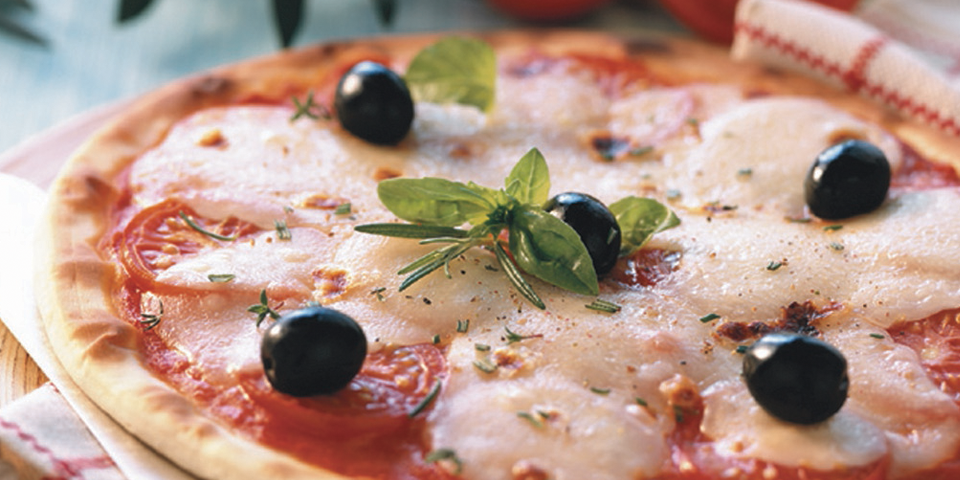 Ingredients
1 Galbani® Mozzarella Fresca 226g Ball, Sliced
1 Thin Pizza Crust, prepared
2 Tomatoes, sliced
1 cup Fresh Basil Leaves, thinly sliced
1 handful Black Olives
3 tbs Olive Oil
1 tbs Dried Oregano
1/2 tbs Crushed Red Pepper
Preparation Instructions
Preheat Oven to 375 F degrees

Slow roast tomatoes and drain of excess liquid. To prepare tomatoes; brush a baking sheet lightly with oil, slice the ripened tomatoes about ¼ inch thick, place on a baking sheet, brush with olive oil and lightly season with salt, pepper, dried oregano and crushed red pepper. Bake at 400 degrees until wilted and somewhat dried, let cool, drain on paper towel before using. Can be done well in advance of preparing pizza.

Lightly brush pizza crust with olive oil.

Arrange roasted tomato slices and Galbani® Mozzarella Fresca slices alternating around pizza crust, overlapping each slice by half. Garnish and top with olives.

Cover the center with slices also, leaving just a one half-inch rim of crust exposed around pizza. Sprinkle the fresh basil across the pizza.

Bake pizza in 375 degree oven for about 14–16 min. or until crust is fi nished and pizza is hot (time may vary depending on your oven). Let stand 3–4 min. before cutting.