Back to Recipes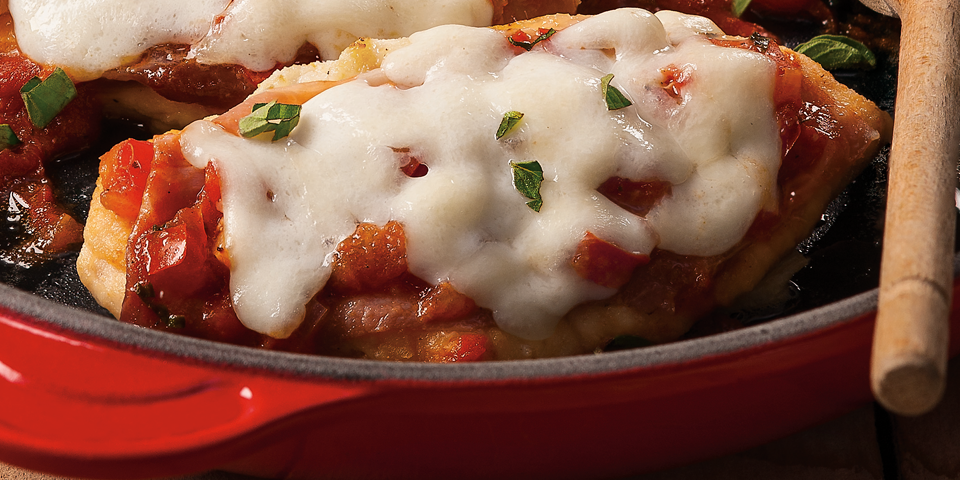 Ingredients
1 Galbani® Mozzarella Fresca Sliced Log
8 oz. 4 ounce boneless chicken breasts
1 cup All-Purpose Flour
1 3/4 cup Olive Oil
Chopped Tomatoes
4 Thin Slices of Prosciutto
2 cloves Garlic, chopped
1/2 Small Red Onion, thinly sliced
1/4 tsp Dry Oregano
3/4 cup Marsala Wine
Salt/Pepper, to taste
Preparation Instructions
Preheat oven to 375 degrees F.

Heat sauté pan to medium heat, add 1 ½ cups of olive oil.

Dredge chicken in the flour until lightly coated, add to the hot pan. When chicken gets a golden crust on one side, then flip and place a slice of prosciutto and Galbani® Mozzarella Fresca Cheese on each one.

Remove from stove and place in oven until all cheese is melted.

To make the sauce, sauté the garlic and onion in the remaining olive oil and slowly add marsala wine.

Add the chopped tomatoes and bring to a quick boil. Season the sauce with oregano, salt and pepper.

Remove chicken from the oven and place on plate. Top with the sauce and serve.